2016 Division 54 Faculty Awards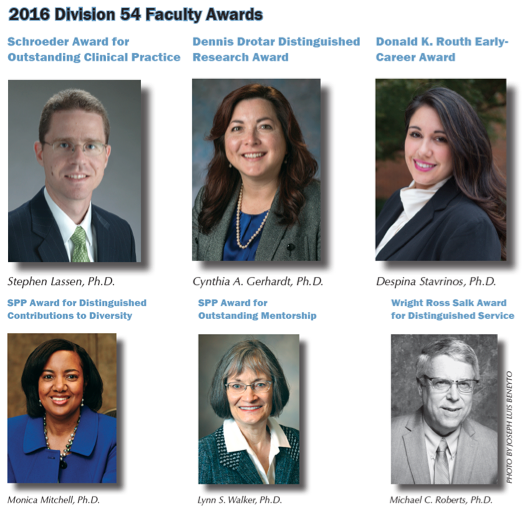 Congratulations to the following recipients of the 2016 Division 54 Faculty Awards!
Schroeder Award for Outstanding Clinical Practice
The Carolyn Schroeder Clinical Practice Award was given to Stephen Lassen, Ph.D. This award recognizes excellence, innovation and leadership in the clinical practice of pediatric psychology. Lassen is an associate professor of Pediatrics and Psychiatry and Behavioral Sciences at the University of Kansas Medical Center and holds a courtesy faculty appointment in the Clinical Child Psychology Program at the Univ. of Kansas. Lassen received his Ph.D. in Clinical Child Psychology from the University of Kansas and completed his pre-doctoral internship at Harvard Medical School and postdoctoral fellowship at the University of Washington School of Medicine. Lassen currently serves as the psychologist in the neonatal intensive care unit (NICU), a position he has created and defined over the past eight years. In the NICU, he provides consultation and treatment services to families who have an infant in the NICU and also provides training and psychosocial support for NICU staff. Lassen's leadership in neonatology includes development of SPP's Neonatology Special Interest Group, training of new pediatric psychologists who work in NICU and related settings, and the development and publication of recent interdisciplinary guidelines for the psychosocial support of NICU parents.
Dennis Drotar Distinguished Research Award
The Dennis Drotar Distinguished Research Award was given to Cynthia Gerhardt, Ph.D. This award recognizes excellence and significant contributions in establishing the scientific base of pediatric psychology. Gerhardt is an associate professor of Pediatrics and Psychology at The Ohio State University, director of the Center for Biobehavioral Health, and co-director for the Patient-Centered Pediatric Research Fellowship at the Research Institute at Nationwide Children's Hospital. Her work focuses on identifying risk and resilience factors associated with family adjustment to childhood chronic illnesses, particularly cancer. Current efforts involve international collaborations aimed at understanding trajectories of symptom burden and decision making at the end of a child's life, fertility, and psychosexual development in survivorship, interventions to improve family coping and communication, as well as the evaluation of innovative healthcare and community-based programming to improve outcomes for providers and families. She has published 100 papers and book chapters, received multiple grants from the NIH and American Cancer Society, contributed to psychosocial care international standards development for children with cancer and their families, and mentored students and trainees in her lab for almost 20 years.
Donald K. Routh Early-Career Award
The Routh Early-Career Award was given to Despina Stavrinos, Ph.D. This award recognizes significant contributions to the field of pediatric psychology in research, clinical training, and/or service during the early career. Stavrinos is an assistant professor of Psychology at the University of Alabama at Birmingham. As a graduate student, she was the recipient of two SPP-sponsored awards: the Lizette-Peterson Homer Memorial Injury Research Grant Award and the first-ever recipient of the SPP/CDC Injury Prevention Student Research Award. She completed her postdoctoral training at the UAB's University Transportation Center and Injury Control Research Center. Stavrinos' work addresses applied transportation issues from a pediatric behavioral science perspective. This work advances the understanding of how development influences basic psychological processes of attention, executive function, and cognition and how they impact real-world problems such as motor vehicle crash risk among young drivers. Current projects include examination of driving attention development across adolescence and evaluation of driving among young individuals with autism spectrum disorders and ADHD. Her work has been funded by various federal agencies including NIH, CDC, and U.S. Department of Transportation.
SPP Award for Distinguished Contributions to Diversity
The award for Outstanding Contributions to Diversity in Pediatric Psychology was given to Monica Mitchell, Ph.D. Mitchell is a professor of Pediatrics in the Division of Behavioral Medicine at Cincinnati Children's Hospital Medical Center and senior director of Community Relations. In her roles, she leads efforts to advance community engagement, outreach, giving and employee volunteerism. Through her leadership, Cincinnati Children's engages more than 20,000 children in health education and outreach each year across the region. Mitchell also consults and collaborates with numerous non-profit organizations to advance evidence-based practiced, translational research, training and leadership development in the community. Mitchell is nationally known for her research in sickle cell disease and for the program evaluation efforts that she leads through Innovations. Her independent and collaborative work has been funded by NIH, NSF, the CDC and HRSA. Mitchell has a joint appointment at the University of Cincinnati, where she mentors graduate and undergraduate students. She is especially committed to mentoring underrepresented minority students. Over the course of her career, Mitchell and her colleague, Dr. Lori Crosby, have mentored more than 50 trainees at all levels, many of whom have transitioned from college to graduate or medical school, fellowship programs, and careers. Mitchell served as a past chair of SPP's Diversity Committee.
SPP Award for Outstanding Mentorship
The Martin P. Levin Mentorship Award was given to Lynn S. Walker, Ph.D. This award honors a pediatric psychology faculty member who mentors students in an exemplary way, providing professional advice and guidance through various phases of training including early-career development. Walker is professor of Pediatrics at Vanderbilt University School of Medicine and director of the Division of Adolescent and Young Adult Health. She is also a faculty member for Vanderbilt University's training program in Clinical Science and serves as major advisor for graduate students in that program. Walker has spent her career at Vanderbilt, where she was the first psychologist on the faculty in the Department of Pediatrics. Walker's research on pediatric functional abdominal pain, funded by NIH since 1986, focuses on mechanisms in the development and maintenance of chronic pain including pain beliefs and coping, parental responses to children's pain, and modulation of pain by the central nervous system. Walker mentors undergraduate, doctoral, and postdoctoral students in psychology as well as fellows and faculty in Pediatric Gastroenterology. Over the years, her multidisciplinary team of trainees has contributed to a landmark study following nearly a thousand functional abdominal pain patients from childhood into young adulthood, and resulting in more than 100 publications and numerous theses and dissertations.
Wright Ross Salk Award for Distinguished Service
The Wright Ross Salk Award for Distinguished Service was given to Michael C. Roberts, Ph.D., ABPP. In recognition of the early founders of pediatric psychology, this award honors outstanding service contributions to the Society of Pediatric Psychology or to the field of pediatric psychology generally. Roberts is professor and dean of Graduate Studies at the University of Kansas. Prior to joining the University of Kansas to start the Clinical Child Psychology Program, he was a professor at the University of Alabama. Roberts has published over 200 journal articles, and has authored or co-edited over 20 books. His research interests include pediatric psychology and clinical child and adolescent psychology, program evaluation, professional issues in psychology, training and education, and classification of disorders by the International Classification of Diseases. Roberts has an extensive history of service to the Society of Pediatric Psychology and the American Psychological Association (APA). Within SPP, he has served as president (1985), editor of the Journal of Pediatric Psychology (1988-1992), council representative to APA (2013-2015; 2004-2006; 2001-2003), member-at-large (1980-1983), historian (2008-2012), and editor of the SPP Newsletter (1980-1982). He is currently the editor of Training and Education of Professional Psychology. He has received numerous awards including Contributions to SPP (2015), Beverly Thorn Award for Outstanding Service as Director of Clinical Training (2009), APA Presidential Citation (2008), and the SPP Award for Outstanding Mentorship in Pediatric Psychology (2008).