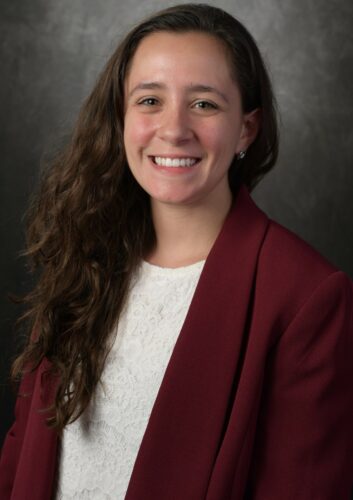 Introduction: CASIE MORGAN
Casie Morgan is a fourth year graduate student in the Medical/Clinical Psychology doctoral program at the University of Alabama at Birmingham under the mentorship of David Schwebel, Ph.D. in the UAB Youth Safety Lab. In addition to the work she conducts in the UAB Youth Safety Lab, Casie is also an active research assistant with Christina Rodriguez, Ph.D. in the Parenting Challenges with Kids (PaCK) Lab, and Sarah O'Kelley, Ph.D. and Kristi Guest, Ph.D. in the Autism Database Lab. In all three of these labs, Casie engages in data collection and analysis, project development and management, dissemination of results through conference presentations and published manuscripts, and mentorship for undergraduate and graduate students. Casie is recognized as an outstanding student who has made contributions to the field of pediatric psychology through research, clinical work, mentoring, and service. Casie's areas of research interest include family dynamics, disruptive behavior in children, and examining influences of media and technology on family health outcomes. Her dissertation, which was funded by grants from the APAGS Psychological Science Research Grant and the APA Division 53 Routh Dissertation Grant, examines the impact of superhero media on preschool children's risky play behavior and unintentional injury outcomes. Clinically, Casie has gained experiences with a number of pediatric populations in the medical setting, including pediatric cancer survivors, children with sickle cell disease, children diagnosed with autism spectrum disorders and other developmental or genetic disorders (e.g., ADHD, Prader Willi, Tuberous Sclerosis Complex, and Pitt-Hopkins), and children with chronic diseases (e.g., HIV and Cystic Fibrosis) and functional disorders (e.g., PNES). Beyond her research and clinical interests, Casie is passionate about diversity-related issues and continuously works toward improving her knowledge and skills related to diversity, equity, and inclusion. She is an active member of the UAB Medical/Clinical Psychology Diversity Committee, the SPP Division 54 Antiracism Research Workgroup, and the APA Division 46 Graduate Stepping Program. In the future, Casie hopes to develop and manage her own federally-funded lab in an academic or medical setting, help underserved families from diverse backgrounds, teach psychology, and incorporate mentoring into her regular work-life.
Society of Pediatric Psychology Highlights
2022 SPP AWARDS OF DISTINCTION
Congratulate Jennifer Pendley, Marilyn Sampilo, Laura Mee, Maru Barrera, Diane Chen, and Melissa Alderfer for their award-winning contributions.
The April issue of Progress Notes includes President's Message, SPP Board of Directors candidates, History Spotlight, and much more.
The Society of Pediatric Psychology publishes two journals. The Journal of Pediatric Psychology is the scientific publication and publishes articles related to theory, research, and professional practice in pediatric psychology. The Clinical Practice in Pediatric Psychology® is the scholarly journal and publishes peer-reviewed papers representing the professional and applied activities of pediatric psychology.