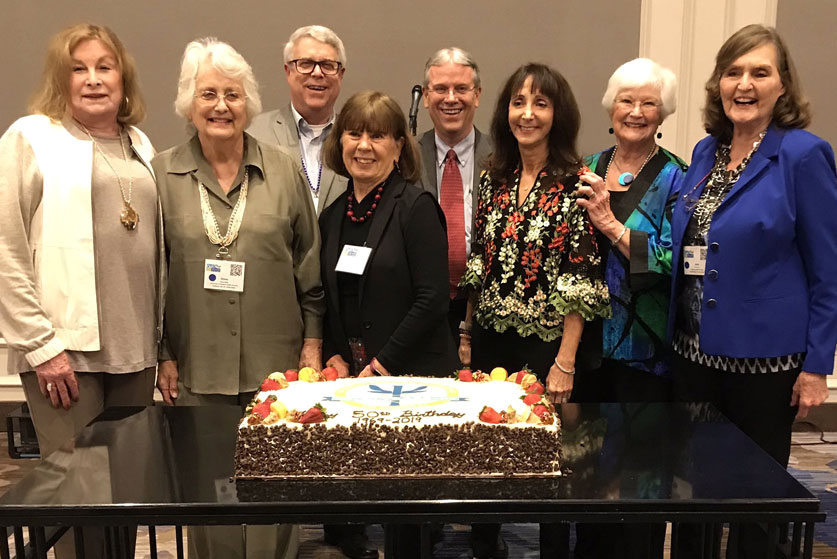 SPPAC 2019 CONFERENCE HIGHLIGHTS
Pictured above, SPP Past Presidents celebrate SPP's 50th Anniversary, left to right: H. Elizabeth (Betty) King 1978-79, Diane Willis 1976-77, Michael Roberts 1985, Maureen Black 1998, Danny Armstrong 1999, Annette La Greca 1988, Carolyn Schroeder 1977-78, June Tuma 1979-80.
A huge thank you to our wonderful SPPAC chair, Amy Holley, Ph.D., and co-chair, Jessica Fales, Ph.D.
SPPAC 2019 in New Orleans was a great success, including the 50th Anniversary Celebration to kick things off Thursday evening. We had 891 registrants, and via our history activities were able to see the connections of SPP. Many past presidents and editors were present at the conference, and we want to thank them for their ongoing support to the society.
Scheduled programming included three invited speakers, 19 symposia, 8 professional development sessions, and five poster sessions. It also included pre-conference workshops, special interest group meetings, a mentoring lunch, Internship and Fellowships on Parade, as well as board meetings for JPP and CPPP journals and the Society of Pediatric Psychology Board meeting.
We want to thank our plenary speakers: Valerie Maholmes, Ph.D., CAS, Rikard K. Wicksell, Ph.D., and Yo Jackson, Ph.D., ABPP, who provided us with different perspectives on risk and resilience.
Congratulations again to the distinguished award winners honored at SPPAC:
Carolyn S. Schroeder Award for Outstanding Clinical Practice: Anna Egan, Ph.D., ABPP
Donald K. Routh Early-Career Award: Erica Sood, Ph.D
Michael C. Roberts Award for Outstanding Mentorship: Randi Streisand, Ph.D.
Wright Ross Salk Award for Distinguished Service: Mary Ann McCabe, Ph.D., ABPP
Dennis Drotar Distinguished Research Award: David E. Sandberg, Ph.D.
SPP Award for Distinguished Contributions to Diversity: Roger R. Harrison, Ph.D.
Thank you to the program chairs, presenters, volunteers, and organizers for your help in making this year's conference run smoothly! We are all looking forward to next year!
JPP Past Editors, pictured left to right: Michael Roberts 1988-92, Annette La Greca 1993-97, Grayson Holmbeck 2013-17, Tonya Palermo 2018-current, Diane Willis 1975-76, Anne Kazak 1998-2002, Don Routh 1976-81.