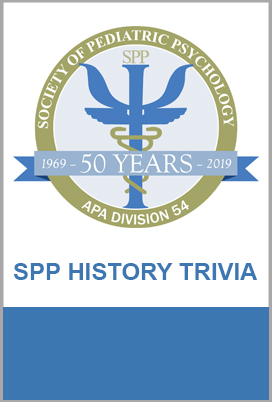 The Society of Pediatric Psychology (SPP) celebrated its 50th anniversary in 2019. The Society of Pediatric Psychology Annual Conference (SPPAC) in New Orleans in April 2019 featured several activities to commemorate this milestone.
One was a History Quiz. The SPP History Committee* wrote multiple choice questions about various aspects of the history of SPP. Using a "clicker app,"** 25 questions were posed one at a time, initially on the SPP listserv before the conference, and then at SPPAC. Prizes were awarded for those answering the most questions correctly.
The history questions are now posted on the SPP website for your interest and use. Take a look if you are interested in testing your own knowledge of our society or if you would like some history trivia questions for a course or presentation. It can also be accessed via a link on the main history page. Special thanks to Dustin Wallace, Ph.D., our webmaster, for setting this up.
*Members of the SPP History Committee are: Brandon Aylward, Ronald Brown, Kimberly Canter, Jennifer Lee, Laura Mee, Michael Roberts, Diane Willis, Anne Kazak (chair).
**Macmillan Learning provided SPP with use of iClicker (a classroom/audience participation tool). Christopher Cushing, Ph.D., set up the app, posted questions, and monitored the competition.