By Christopher C. Cushing, Ph.D.
vSPPAC 2021 Chair
Emily F. Law, Ph.D.
vSPPAC 2021 Co-Chair
We enthusiastically invite you to submit your work to vSPPAC 2021 and to register quickly when the portal opens in early December. The theme of this year's conference is Understanding Health Disparities and Individual Differences in Pediatric Psychology. The conference will feature exciting educational and networking opportunities. We are delighted to announce three world-class plenary addresses from leaders who will inform and challenge our attendees.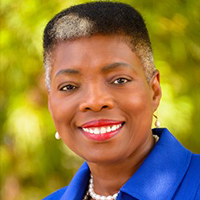 Dr. Rosie Davis
Dr. Rosie Davis is a leader in the American Psychological Association having served as President in 2019. She used her office to establish the deep poverty initiative. The deep poverty initiative leverages psychological science and the public/private sectors to end deep poverty. This work is informed by her long-standing work in the Memphis community where she is also a professor of Counseling Psychology at the University of Memphis.
Dr. Elaine Fox
Dr. Elaine Fox is a Professor of Psychology and Director of the Oxford Centre for Emotions and Affective Neuroscience (OCEAN) at the University of Oxford. Her research considers the science of emotion and what makes some people more resilient than others.
Dr. Rebecca Puhl
Dr. Rebecca Puhl is Deputy Director for the Rudd Center for Food Policy & Obesity and Professor in the Department of Human Development and Family Sciences at UConn. Dr. Puhl is responsible for identifying and coordinating research and policy efforts aimed at reducing weight bias.